Shaun King: I Will Pay You $1,000...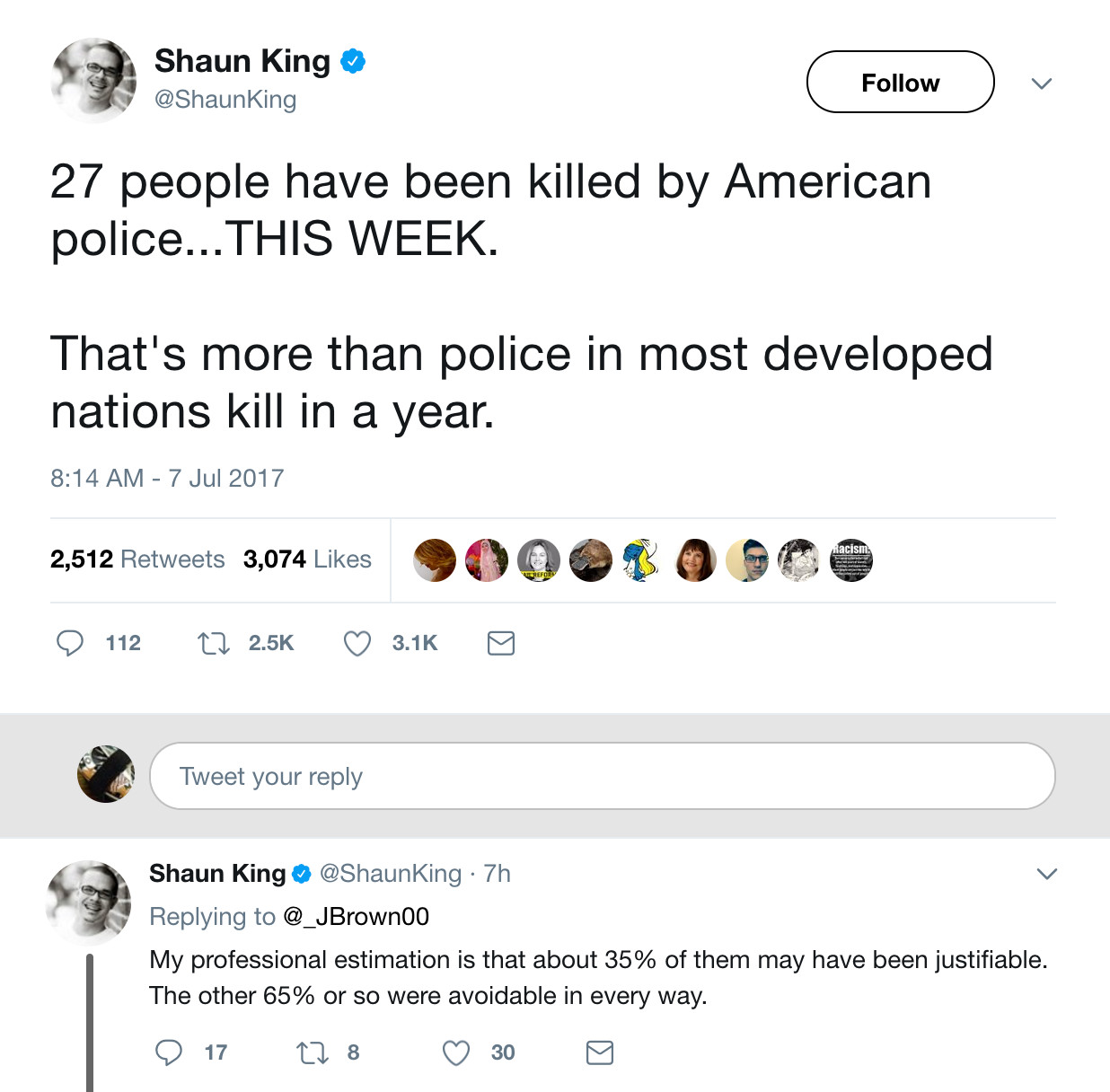 On July 7, 2017, Shaun King tweeted, "27 people have been killed by American police…THIS WEEK. That's more than police in most developed nations kill in a year."
"My professional estimation," he continued "is that about 35% of them may have been justifiable. The other 65% or so were avoidable in every way."
Well, Mr. King's professional estimation is an important one. After all, he is a Daily News columnist, and he is influential. That first tweet was retweeted by more than 2,500 people. Still, I wonder about the number.
So I went to the Washington Post's Fatal Force database. Mind you, that database only covers fatal police shootings. Now, my professional experience is that about 15% more people are intentionally killed each year by police than are shot - so if there are 1,000 people fatally shot by police in a given year, there will be about 150 more people who died after a police encounter but who were not shot. The majority of those are drug overdoses and heart attacks.
Mr. King's number of 27 comes from killedbypolice.net. Brian Burghart and I figured this out during a long phone call.
OK. In my experience, KBP includes a whole lot of noise - deaths in prison, accidental deaths, deaths in jail - none of which are police deaths. But whatever. The Washington Post counted 15 people. I would expect, therefore, another three people to have died after not being shot - but hell, let's not quibble: let's spot Shaun another 12. It's not about the 27 (other than I think Mr. King pulls data out of his ass). It's about his "professional estimation" as to justification.
Let's go to the 15 people the Washington Post lists as being shot to death by police.
See, Mr. King avers that 65% - 10 of those 15 - will be "avoidable", or not "justifiable," given his professional estimation.
So which of these are the 10 "avoidable" police killings?
Patrick Sanchez - July 1, Glendale
A Glendale woman called police to say that she and a man were being held hostage by Patrick Sanchez, who had a gun, and another woman. When officers arrived and confronted Sanchez, he began to fight them, and dunring the struggle managed to grab his silver handgun. Still, the officers tried to "avoid" killing him, asking Sanchez to drop the weapon, but when he didn't comply, an officer shot him. While I am sure that Mr. King, with his expertise and experience in deadly confrontations, would have managed to avoid this outcome, I'm not sure mere officers have that kind of training.
Quintec Locke - July 1, Chicago
After two officers responded to a 911 call of shots fired, officers - in uniform and using body cameras - say they saw someone armed, and after a confrontation, fired and killed Quintec Locke. An AK-47 and a handgun were recovered at the scene, police said. But there are some witnesses that contradict the narrative that police put out." Well, an AK and a handgun would indicate to me an issue, but sure. CPD spokesman Anthony Guglielmi said there were bullet holes in nearby vehicles, but it was unclear if they were from Saturday night. It is Chicago.
Jeremy Holmes - July 1, Fort Collins
This one honestly sounds sketchy - and I am not being sarcastic. Colorado State University police responded to a report of a "threatening male," and were assisted by Fort Collins police. The officers found the man, who was armed, about 8:30 p.m. near South Whitcomb Street and West Prospect Road. "During the course of their interaction, police fired shots, striking the man," the sheriff's office said in a statement.
Unidentified Man - July 2, Norfolk
Is it really necessary to kill a man if he shoots an officer in the bullet-proof vest? I mean - it's not like the cop died after a Norfolk man shot at the police who arrived at 11:15 Sunday night to reports that a man was acting abnormally had a gun. When the cops got there, they tried to speak with the man, who shot an officer - hitting him in the vest that covered his chest. Other officers on scene returned fire, striking the suspect. A neighbor said "I thought he was crazy — that he was on drugs," she said. "He was really scary." People in the neighborhood who encountered him for the first time in the hours before the shootings said he was acting paranoid and as if he was on drugs. They also said he'd been hiding in dumpsters for days. The officer was taken to a nearby hospital, treated and released.
Unidentified Man - July 3, Fishers
One morning last week around 10:30, when two Fishers police officers were sent to check on an "emotional person in distress", the man threatened them, then himself, with a gun. Officers said they opened fired on the man after he threatened them with the gun, before the man then turned the gun on himself. A Fishers officer says it's not clear who fired the bullet that killed the man.
Unidentified Man - July 3, Hillsdale
A man had jumped a fence Monday to get into Hillsboro Airport, then accosted a flight instructor and student who were inside a helicopter. The man ordered them to get out, firing at least one round. When police arrived, the man had got into the helicopter, but then took off running (because he couldn't take off in the helicopter). Police shot the armed man in a field - I'd like more information, too.
Daniel Craven - July 3, Spokane
I wonder if police could have "avoided" shooting Daniel Craven, shot multiple times by two Spokane police officers at about 12:30 a.m. Monday. Craven had several recent domestic violence incidents with his ex-girlfriend – whose house was near the area where he was killed – according to a search warrant on Craven's apartment filed Thursday. In that warrant, the cops said they had been called to the same residence on June 21 after Craven allegedly forced his way into the woman's home and threatened her with a handgun. Last week, the first officer on scene reported hearing gunfire within a minute of arrival, police said in a statement. Two officers fired their weapons shortly after, striking 53-year-old Daniel Craven multiple times. They were wearing body cameras and reported finding a gun near Craven after shooting him.
Christopher Cashell - July 3, Bonaire
Christopher Cashell's wife called police after Cashell slashed the tires on her car with a knife, according to the GBI? A deputy responded to the home at 416 Green Island Road in Bonaire. Cashell (who remember, "only" had a knife) was outside the house when the deputy arrived, but suddenly turned and went into the house! The deputy followed and Cashell turned around with a gun in his hand, and the deputy then shot Cashell four times in the torso killing him.
Miguel Gonzales - July 4, Albuquerque
Gang-member Miguel Gonzales was shot early Tuesday morning after he allegedly pulled a gun on deputies who pursued him after learning that a license plate on a car driven by Gonzales was stolen. Gonzales, whose criminal history included convictions of burglary, fleeing from law enforcement, aggravated assault on peace officers, and injury to a police dog, had led cops on a chase from a local car wash. Deputies say Gonzales drove off when they confronted him. Gonzales stopped and got out of the car in a neighborhood when deputies ran after him. Gonzales was shot after deputies say he pulled out a gun. He was shot. "They have Tasers," said the suspect's brother-in-law, who did not want to be identified. "Why didn't they taser the man and immobilize him before they had to kill him in cold blood?""
Dana Dubose - July 4, Vandalia
Dana Dubose, a knife-wielding man, was "covered in blood" when he rammed his car into the rear of a state trooper's patrol vehicle early Tuesday, then got out brandishing the knife and advanced on the state trooper, who shot Dubose. Dubose, say police, advanced toward the trooper, who told him to drop the knife, but Dubose continued to disregard verbal commands and lunged at the trooper with the knife extended." The trooper fired one shot, hitting the man. Emergency vehicles were called, but the man died at the scene. Dubose had a history of at least five domestic violence arrests since 2001, and a 2008 conviction on aggravated burglary charges and violating a protection order. In 2014, he was indicted on charges of attempted rape, attempted murder, felonious assault and having weapons under disability. Through a plea agreement charges were dropped and reduced. In 2015, he pleaded guilty to domestic violence and weapons charges in the case. Sometime later, it was discovered that Dubose had murdered a woman, named Princess Brown, whom Dubose had stabbed to death just an hour before the confrontation with the police.
Cody Ray McCray - July 4, Centerville
Cody Ray McCray stole a car, then led police on multiple chases near crowded July Fourth parade routes. Well, the cops say that McCray was spotted several times by officers throughout Davis County. Initially officers chased the stolen vehicle, but after several terminated pursuits, Child said police began just monitoring McCray and noting his location. McCray had an open warrant for domestic abuse.
Family members had called police to report that McCray had taken his girlfriend or ex-girlfriend's vehicle without permission and was suicidal. So when McCray began to drive eastbound on Parrish Lane, close to Centerville and West Bountiful's Fourth of July parade areas, officers grew concerned. "Every effort was made to keep him from getting into those crowds," said the police chief. The cops turned McCray away from parade areas, and finally flattened his tires, but McCray kept driving on shredded tires, then turned around and drove southbound in northbound lanes, driving head-on into a police car before another police car was able to ram the stolen vehicle, hitting it into the median of the road and making it incapable of driving. A grass fire then caught in the median, and some non-transparent things happened before McRay was shot to death.
Donald Martin - July 4, Belleville
Donald Martin started throwing fireworks at his neighbors. They called the police, who say that Martin fired at officers several times with a shotgun. Maybe Mr. King could have talked him down, but the cops couldn't, even though trained negotiators came to the house. Martin made several suicidal comments. Another neighbor said they heard Martin shout "just kill me" to police. Neighbors describe Martin as a man with a troubled life.
Unidentified Man, July 4, Federal Heights
A woman called 911 at 9:54 p.m. Tuesday night saying that that a fugitive parolee whom police believed was armed, had threatened to go to her house. The man had violated parole and was sought on arrest warrants. A Federal Heights police officer shot and killed the parolee when they say he refused orders to surrender and attempted to flee. There were three other people in the car with him. Police arrested two suspects and are searching for another person who bolted on foot.
"The only shots fired were by the Federal Heights police officer," Wilmes said.
Alexander Bonds - July 5, NYC
I think we can safely say it wasn't Alexander Bonds, who ambushed and assassinated NYPD Police Officer Miosotis Familia, a 12-year veteran and mother of three who was sitting in a marked police van when Bonds walked up and shot her in the face with his .38-caliber revolver through a window, killing her with a bullet to the head. His girlfriend called 911 on Tuesday night and told the police that Mr. Bonds "was acting in a manic, depressed state — paranoid," a law enforcement official said.
When officers arrived, he had gone. Mr. King's own newspaper, the New York Daily News, said the officers who chased, shot, and killed Mr. Bonds have been "hailed as heroes". The Daily News (which is most unfriendly to police generally), say that Bonds' girlfriend struggled in vain to get the erratic and paranoid ex-con off the street in the days before his "Bronx execution of a veteran city cop." And USA Today pointed out that Bonds had a history of run-ins with the law, but nothing of import since his release from prison in 2013. But last September he ranted against police in a disjointed, 11-minute Facebook Live video. "Y'all (expletive) so reluctant to want to say something to the police," he says at the start of the video. "Man, police is (expletives) and this ain't no gimmick."
So it probably isn't Mr. Bonds whom Mr. King feels was "avoidable".
Tiffany Lynn Potter, July 5, Des Moines
Police in Des Moines Police say that Tiffany Lynn Potter was trying to evade police in her car, then parked in a driveway that was not hers, and ran away from officers. Police said she had a handgun and fired it at police at least once, while running away.
And Now... The Bet
So all in all, Mr. King, what do you think now, in your "professional estimation?"
Did 10 of those scenarios sound, in your mind, like the police really reacted badly and killed someone when it was "Avoidable?" I won't ask you whether you understand that "Avoidable" isn't a legal standard different from "Justifiable" (which isn't a legal standard, either).
But I will tell you that, after looking at all 15 of the WaPo incidents that actually occured, I think that your "professional estimation" is just totally and completely wrong. I'd welcome your comments, but you'll never give them to me. Because frankly, when it comes to facts, you really couldn't possibly care less.
Tell you what - I'll make it interesting: I will give you $1,000 in hard cold green cash if you can show me, based on police tactics and training, under the law, and the policies of each department, with source material, how ten of those incidents were "Avoidable."
Should be easy.
Use the contact form at my website to provide me with your answer, and I will send you a money order if you can do it.
Should be a sucker bet, right? I mean, with all your professional experience.